Are you looking for land to build an affordable home? Twenty-six lots are now for sale in Burtonia Street, Rokeby, close to local shops and services and around 15 minutes from Hobart's CBD.
---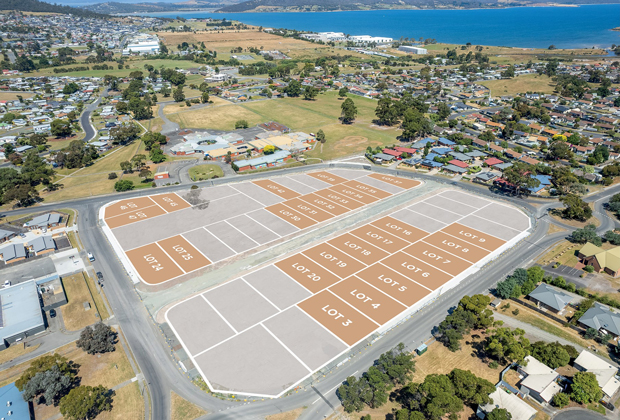 This special 26-lot land release offers a rare opportunity to build your own home in an affordable location that is around only 15 minutes from Hobart's CBD.
The release features blocks with a gentle elevation, ranging from 450m² to nearly 550m² in size and includes some lots with views over Ralphs Bay.
Situated just minutes from the brand-new Glebe Hill Village Shopping Centre, these land parcels offer a great lifestyle opportunity, located close to amenities, including schools, shops and services, as well as parks and multiple sandy beaches.
* Popular and growing suburb
* Build your own home (subject to Council approval)
* Great size blocks ranging from 450m² to 550m²
* Available to eligible buyers through MyHome
* Gentle elevation gain providing some lots with water views
* Close to local schools, parks, shops, cafes and local services
* 15-minute commute to Hobart's CBD
* Connectivity for mains water, sewerage, electricity, phone and NBN
Lots are available on the open market and to eligible buyers through MyHome, Homes Tasmania's shared equity program, which provides assistance to help you buy and build your own home. Find out more information about MyHome.
Zoning: General residential
Land use: Vacant residential
Proudly offered in partnership with Mission Australia Housing Tasmania and Homes Tasmania.
Interested? Visit realestate.com.au for details.
Want more information? Read the frequently asked questions fact sheet.
---
Back to news and announcements