A family has been reunited after being able to move into their new social housing property.
---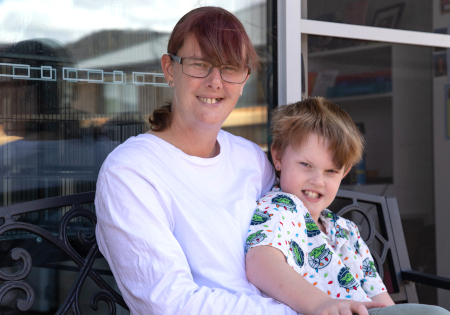 Tennille, her nine-year-old son Deklan and their dog Tyler were living in a private rental in New Norfolk but had to vacate the house after the owner sold the property.
They had to move into a motel for six months and as the motel didn't allow pets, Tennille and Deklan had to make the hard decision to leave Tyler with a family contact.
"It was very hard. I lived there with Deklan, and at that stage we did have a carer/cousin staying with us at the hotel because I was working a lot, so it was three of us squashed in one room," Tennille said.
"I couldn't go back to a private rental due to a knee surgery that's upcoming, so I was stuck waiting for my housing house."
But the family received a very special early Christmas present when a tenancy officer from Centacare Evolve Housing called to offer them a two-bedroom property that would allow them to be reunited with Tyler.
When she learned the news on December 7, Tennille said she "cried my eyes out".
"I won't forget the date," she said.
"I couldn't believe it. I was shocked. It's like I won the lottery."
But she didn't immediately tell Deklan.
Instead, when she picked him up from school, she drove him to the unit and said two simple, yet very powerful, words: "Welcome home."
Being able to move into a new home meant Tennille and Deklan could be reunited with Tyler, who is a very close companion and provides support for Deklan.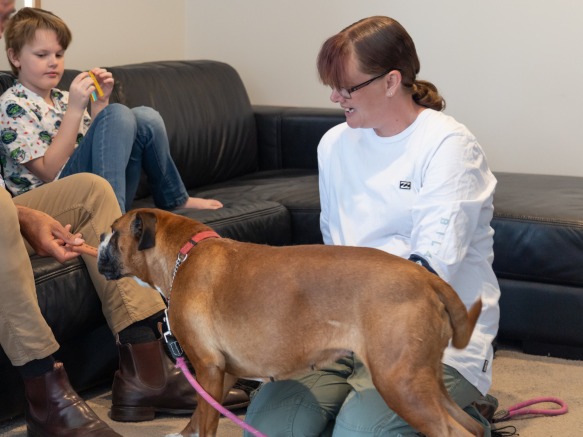 Tennille said being able to live in her own home was "like a brick's been lifted off my shoulders".
"I finally have a home for my son. He's secure now. That's the main thing. It's not about me, it's about him.
"It's security. I finally have a home. There's no words for how happy I am."
The new home is one of 10 two-bedroom units in the third stage of a Centacare Evolve Housing development at New Norfolk.
CEH had previously delivered 29 units at the site.
Homes Tasmania provided funding of $135 000 per unit for 25 of the units and $145 000 per unit for 14 of the units – a total funding commitment of over $5.4 million.
The funding was delivered through three grant rounds under the Community Housing Growth Program.
Tennille also expressed her gratitude to the CEH team and to the staff at the Junction Hotel where they were staying.
As well as reuniting her family, the new home has also allowed her to start planning for her future.
"Get my surgery and start living life again. I'm a disability support worker. I want to get back into that, which I haven't been able to since my knee. So that's my goal."
---
Back to news and announcements