Congratulations to Homes Tasmania Board Chair, Michele Adair, for winning the Urban Development Institute of Australia's Women in Leadership Award last week.
---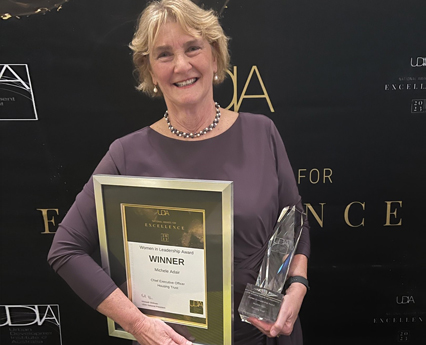 'I am humbled by this recognition for doing a job I love, working with people I really respect and enjoy, in an industry I'm so proud of,' Michele said on accepting the award.
Michele has extensive leadership experience in the housing sector.
Her day job is CEO of Housing Trust, one of the largest community housing providers in New South Wales.
Along with her relatively new role as inaugural Homes Tasmania Board Chair, she is also the Chair of the Community Housing Industry Association (CHIA) in NSW and a member of the Illawarra Property Council Committee.
Her commitment to improving housing outcomes is not only evidenced by her leadership roles but also through her own lived experience with homelessness.
"My dad died suddenly from cancer when he was only 46.
"I was nine years old and while much of that time was a bit of a blur, I vividly remember feeling safe and that life continued somewhat normally because we had a home," she said.
It was completely the opposite experience when her marriage ended about 20 years later.
"The terror, shame and guilt of becoming homeless with two young children was all consuming and that lived experience informs every aspect of my work.
"This award lifts my credibility and visibility with the private sector development and construction industry and helps us work together to re-imagine a better, more equitable and sustainable housing system.
"It helps me challenge the narrative about who needs affordable housing and why.
"And now as the Chair of Homes Tasmania, it also draws attention to what we're doing and the extraordinary, innovation and reform we're driving. I'm immensely proud and excited about what we're doing to improve the lives of Tasmanians," Michele said.
---
Back to news and announcements